Using Zencoder with Google Cloud Storage
This topic explains the setup for using Zencoder on the Google Cloud Platform.
Google Cloud Storage Setup
Generate Interoperable GCS Credentials
Google Cloud Storage is interoperable with the Amazon S3 API, but requires some initial setup work. To get started with GCS on Zencoder, you'll need to enable Interoperable Access from the Google Cloud Console and generate a key. Check out the To generate a developer key section in this document for instructions on turning on interoperable access and generating access keys.
Store Credentials
Once you have a set of Interoperable GCS credentials for your account, you can then securely store them with Zencoder, at the Zencoder Credentials page.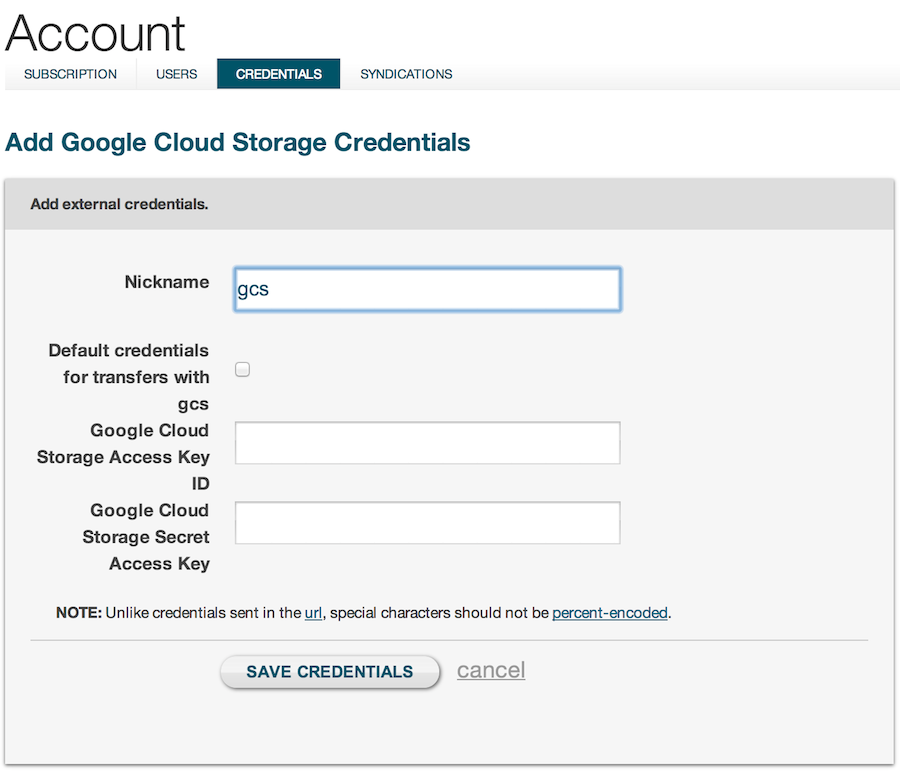 Under Add Credentials, select Google Cloud Storage. Then, populate the Google Cloud Storage Access Key ID and Secret Access Key parameters with your newly generated credentials. Be sure to click "Default credentials for transfers with gcs" -- this will ensure that any input or output URLs that specify the gcs:// protocol will use these credentials.
Transcoding
The example below shows a working job which pulls an input video from GCS, creates renditions for HTTP Live Streaming, and sends the output streams to GCS. You can test this out by changing my-bucket to an existing GCS bucket that you own and pasting this into the Request Builder.
Example HLS Job Using GCS

  {
      "test": true,
      "input": "gcs://zencoder-testing/test.mov",
      "output": [
      {
          "audio_bitrate": 64,
          "audio_sample_rate": 22050,
          "base_url": "gcs://my-bucket/",
          "filename": "file-64k.m3u8",
          "segment_seconds": 2,
          "format": "aac",
          "headers":{
              "x-goog-acl": "public-read"
          },
          "type": "segmented"
      },
      {
          "audio_bitrate": 56,
          "audio_sample_rate": 22050,
          "base_url": "gcs://my-bucket/",
          "decoder_bitrate_cap": 360,
          "decoder_buffer_size": 840,
          "filename": "file-240k.m3u8",
          "segment_seconds": 2,
          "max_frame_rate": 15,
          "type": "segmented",
          "video_bitrate": 184,
          "headers":{
              "x-goog-acl": "public-read"
          },
          "width": 400,
          "format": "ts"
      },
      {
          "audio_bitrate": 56,
          "audio_sample_rate": 22050,
          "base_url": "gcs://my-bucket/",
          "decoder_bitrate_cap": 578,
          "decoder_buffer_size": 1344,
          "filename": "file-440k.m3u8",
          "segment_seconds": 2,
          "type": "segmented",
          "video_bitrate": 384,
          "headers":{
              "x-goog-acl": "public-read"
          },
          "width": 400,
          "format": "ts"
      },
      {
          "audio_bitrate": 56,
          "audio_sample_rate": 22050,
          "base_url": "gcs://my-bucket/",
          "decoder_bitrate_cap": 960,
          "decoder_buffer_size": 2240,
          "filename": "file-640k.m3u8",
          "segment_seconds": 2,
          "type": "segmented",
          "video_bitrate": 584,
          "headers":{
              "x-goog-acl": "public-read"
          },
          "width": 480,
          "format": "ts"
      },
      {
          "audio_bitrate": 56,
          "audio_sample_rate": 22050,
          "base_url": "gcs://my-bucket/",
          "decoder_bitrate_cap": 1500,
          "decoder_buffer_size": 4000,
          "filename": "file-1040k.m3u8",
          "segment_seconds": 2,
          "type": "segmented",
          "video_bitrate": 1000,
          "headers":{
              "x-goog-acl": "public-read"
          },
          "width": 640,
          "format": "ts"
      },
      {
          "audio_bitrate": 56,
          "audio_sample_rate": 22050,
          "base_url": "gcs://my-bucket/",
          "decoder_bitrate_cap": 2310,
          "decoder_buffer_size": 5390,
          "filename": "file-1540k.m3u8",
          "segment_seconds": 2,
          "type": "segmented",
          "video_bitrate": 1484,
          "headers":{
              "x-goog-acl": "public-read"
          },
          "width": 960,
          "format": "ts"
      },
      {
          "audio_bitrate": 56,
          "audio_sample_rate": 22050,
          "base_url": "gcs://my-bucket/",
          "decoder_bitrate_cap": 3060,
          "decoder_buffer_size": 7140,
          "filename": "file-2040k.m3u8",
          "segment_seconds": 2,
          "type": "segmented",
          "video_bitrate": 1984,
          "headers":{
              "x-goog-acl": "public-read"
          },
          "width": 1024,
          "format": "ts"
      },
      {
          "base_url": "gcs://my-bucket/",
          "filename": "playlist.m3u8",
          "streams": [
          {
              "bandwidth": 2040,
              "path": "file-2040k.m3u8"
          },
          {
              "bandwidth": 1540,
              "path": "file-1540k.m3u8"
          },
          {
              "bandwidth": 1040,
              "path": "file-1040k.m3u8"
          },
          {
              "bandwidth": 640,
              "path": "file-640k.m3u8"
          },
          {
              "bandwidth": 440,
              "path": "file-440k.m3u8"
          },
          {
              "bandwidth": 240,
              "path": "file-240k.m3u8"
          },
          {
              "bandwidth": 64,
              "path": "file-64k.m3u8"
          }
          ],
          "headers":{
              "x-goog-acl": "public-read"
          },
          "type": "playlist"
      }
      ]
  }